Natasha's Cleft Lip Repair
jump down to:
or go to:
Zoe,

|

|

|

,

|

,

|

,

|

,

|

,

|

,

|

,

|

,

|

,

|

,

|

,

|

,

|

,

|

,

|
Natasha's cleft lip repair, 17th September 2007, at the Evelina Children's hospital. Also see cleft links.
Natasha is slowly getting back to behaving like her old self. Her new smile is taking a bit of getting used to as we loved her old one so much.
Our experience at the Evelina children's hospital, in London, was as nice as any hospital stay could be. The staff were fabulous. Thanks especially to nurses Melissa and Caroline. It was terrible to watch our baby being put to sleep and an agonising wait to get her back. Our surgeon, Mr Huppa, seems to have done a splendid job in correcting Natasha's cleft lip. Thank you.
Having her face feel different has been unsettling for Natasha and she has been crying more than usual. We don't think she is in pain as she still sucks her thumb without difficulty and is feeding well, if erratically. It is possible that her medication has upset her tummy which doesn't help things. Every day she seems to get a little better with less whining and more happy times.
We're seeing our specialist cleft nurse, Sue Butcher, next week with a cleft team follow-up in about six weeks. Thank you Sue for all your support and advice.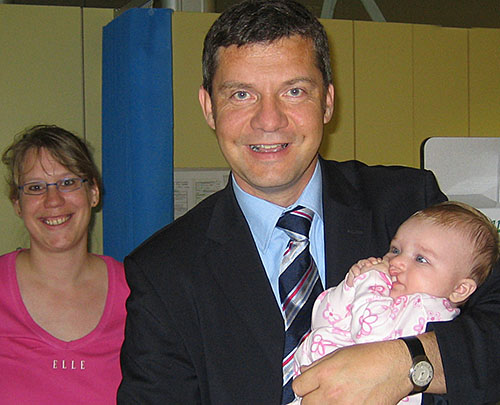 Natasha with the surgeon and Mummy putting on a brave face.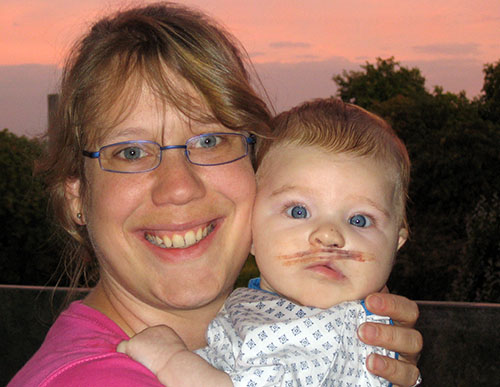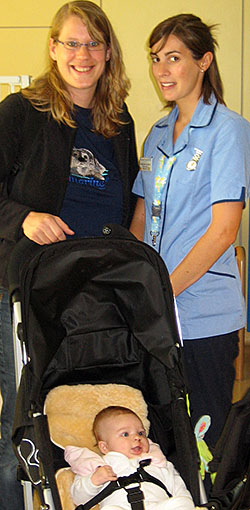 Our cheeky monkey - when she feels like it.
four days after her operation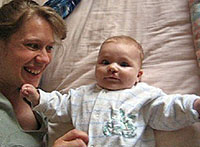 Post Op Smiles video clip (28 seconds, 1.22 Mb, WMV format)